SUPER 8: "Gonna Be Mint"
Transmedia Campaign
To promote the international release of SUPER 8, Paramount Pictures International launched a captivating 3D experience putting you at the heart of the thrilling and emotional journey Joe Lamb and his group of filmmaking friends from Ohio embark upon in the summer of 1979.
Over time, original content, artifacts, clips, radio broadcasts, retro games and applications unlock the amazing mystery and shocking truths behind SUPER 8. Be inspired to have a filmmaking adventure of your own at gonnabemint.com.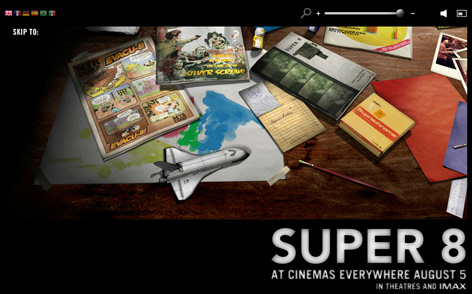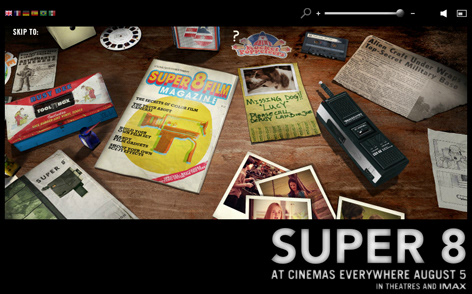 The box of Suprachrome 8mm film was the first item to appear on a desk which itself sat at the center of the campaign, entitled "Gonna Be Mint!", bringing to life the world of Joe and his friends, transporting audiences back to a time when a trip to the cinema meant the adventure of a lifetime. 
Joe's Desk was a dynamic interactive 3D Flash environment that was updated on an almost daily basis in the weeks leading up to SUPER 8's international release to feature a wide range of web apps, original content and other online initiatives.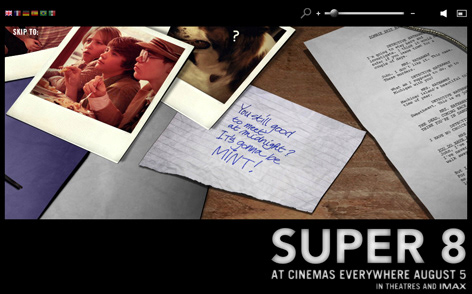 The comic book, 
"Monsters from the Morgue"
, was imagined as the inspiration for the kids' 8mm short, "The Case". You could open the comic to read the beginning 8 pages of "The Case of the Silver Scream".
Super 8 Storyboard let you create your own storyboards from scratch, fill in the gaps between two ready-made panels, or collaborate with friends creating a story frame-by-frame. The super-simple drag-and-drop interface gave you a large selection of existing story elements to choose from, or you could create your own stuff from scratch using the pencil and eraser tools.

Playing on the classic table-top arcade games of the era, EVACU-8 used authentic vector display graphics to bring you an experience "so real, you forget it's a game!"

Super 8 Film Fest provided a focal point for various apps and content released through the course of the campaign, Super 8 Film Fest was conceived to give fans everything they needed to go out and have a film-making adventure of their own. It even featured two clips from the kids' own film, "The Case", for inspiration.

Towards the end of the campaign we updated another of the objects on the desk, the Busy Bee Tool Box, to feature a selection of artifacts broadening out the film's back-story, including some mysterious X-rays.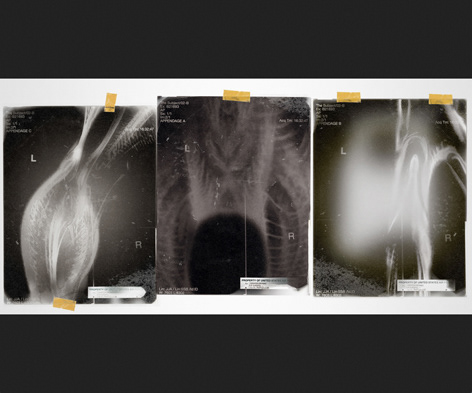 For a more comprehensive overview of the campaign, the 
Gonna Be Mint Tumblr
 was run alongside the main site and made available in six languages.
___
AGENCY:

Glass Eye


CLIENT:

Paramount Pictures International