IRON MAN 2
in PlayStation Home 
Paramount Pictures International and Audi launched an IRON MAN 2 mini-game located in the Audi Space of PlayStation Home. As the first in-world game ever made for a film in Home, this was definitely worth your time to visit. 
You got the chance to throw on the Iron Man suit and pilot your way through a tricky skyscraper obstacle course, picking up arc reactors and dodging the mines to power your way onto the leaderboard.
If you made the leaderboard, then you had to do your best to stay on it; the Top 10 scorers were rewarded with an Iron Man suit to keep. Do you have the raw talent – or sheer dedication – to prove that you have what it takes to wear the Iron Man suit?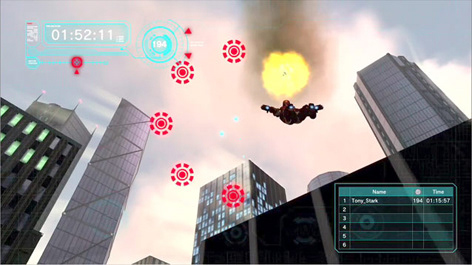 Home residents could find the IRON MAN 2 terminals in the Audi Space, answer the questions correctly and get a free Iron Man virtual t-shirt. They could also head to the Home cinema to watch clips, viral videos and trailers from the forthcoming movie. 

___
ROLE:

Creative Strategy, Production
AGENCY:

Picture Production Company


CLIENT: 

Paramount Pictures International