CLOUD ATLAS
Dynamic Visualizer
"Birth. Death. Life. Love. Hope. Courage. Past. Present. Future. Everything is connected."
These nine themes at the heart of the sci-fi epic CLOUD ATLAS provided the inspiration for an interactive experience launched by Warner Bros to promote the film's theatrical release: Cloud Atlas Visualizer.
In Story Mode, you could explore the world of CLOUD ATLAS though quotes and images from the film. The ever-changing mosaic evolved with the social conversation to illustrate how the world was connecting in real-time.​​​​​​​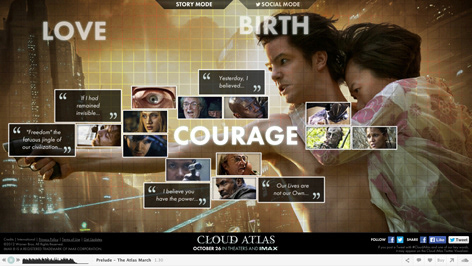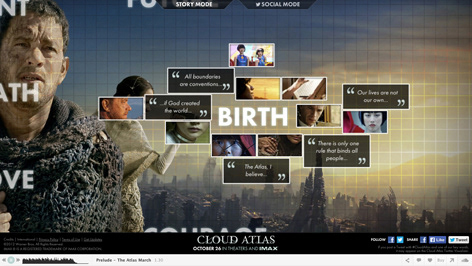 In Social Mode, you could view Tweets and Instagram photos from #CloudAtlas fans from around the world. Tweet or post a photo on Instagram to add your contribution to the growing mosaic.
Social Mode also offered an at-a-glance view of how frequently the themes were being mentioned on Twitter, feeding off real-time data provided by the Mass Relevance social engagement platform.
Cloud Atlas Visualizer also integrated sharing across Facebook, Twitter, Tumblr and Pinterest.
___
AGENCY:

Glass Eye


CLIENT:

Warner Bros.