In anticipation of CHRONICLE, 20th Century Fox hand-picked a selection of five artists and designers to make their own interpretation of the film through their medium of choice. The aim was to creatively explore themes and ideas at the heart of the film, showcasing and exhibiting their artwork through authentic, fan-focused channels.
Marko Manev submitted three posters and said: 
"When I saw the trailer for Chronicle I immediately got hooked to the story because it asks the age-old geek question 'what comes with great power?', what happens when you become aware of what you are capable of? And that is the fundamental point whether one chooses to use their abilities for good or for evil."
"From what I saw in the trailer I tried to extract the essence of the story and present it with silhouettes. I love using silhouettes because they are simple and yet powerful forms of expression. Anyone can relate to them. They could be you, me or anyone else. Anyone can ask themselves 'What am I capable of?' and hopefully choose the right path."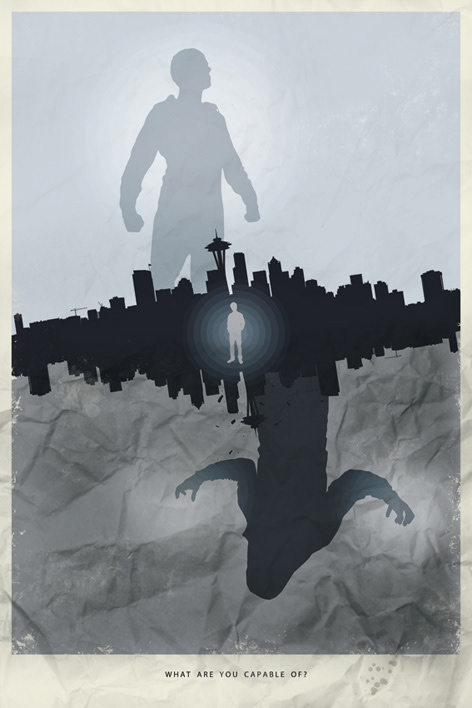 Ed McGowan submitted a photograph and said,
"In short the movie is about teens who gain abilities and how they deal with their new found powers. One of these abilities is the power of telekinesis. For this concept I wanted to create a scene where a person uses their powers to save another from an oncoming vehicle. I wanted to put a spin on this idea, so I came up with the idea of doing a tilt-shift. This effect makes the scene seem like a setup with miniatures. We had actors down on the street playing their parts as I captured it from a high vantage point. The only addition done in post was the levitating truck. I think the end result is something that plays with the eye and the mind."
Matt Ferguson submitted three posters and said,
"When watching the trailer for Chronicle it struck me straight away that a Manga inspired piece of artwork would really work for a film poster. So I took my inspiration from films such as Akira and tried to create some exciting, dynamic images in my own style, adding in a slightly retro element."
"I wanted to show the isolation that would occur to a teenager if they were bestowed with super human powers, which is why I chose to concentrate on just one figure using his powers, possibly irresponsibly."
Fernando Reza submitted several posters adapted from a complete yearbook he created for Chumash Valley High. He stated,
"What first struck me about Chronicle was the way it mixed something as fantastic as superpowers and combined it with something as mundane as high school in a very straightforward realistic way. I liked how it merged the extraordinary and the ordinary and I wanted to approach this project the same way."
"I decided to design a faux year book cataloging a year at Chumash Valley High School. The look of the prints are very much inspired by mid century modern designers in particular Saul Bass and the work of Mary Blair. The pages of the yearbook cover everything from Chumash Valley Football, Spirit Week."
Keron Grant (Fantastic Four, Iron Man, Spider-man and X-Men), submitted three illustrations: "Heist", "Hot Date", and "Emergency". For "Heist" Grant said that it came about from dreaming up a bank robbery if he had those powers.
"Wonder what that says about me?"
he said with a laugh. He added that the other 2 poster were
"a bit more noble"
.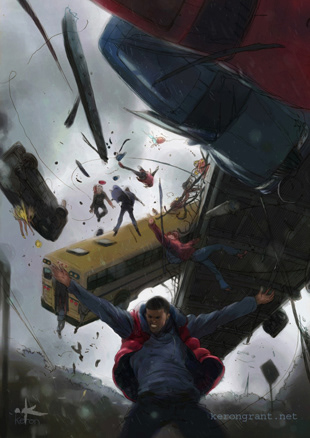 As well as releasing the artwork through the artists' websites and portfolios, the complete series was posted on the dedicated "What Are You Capable Of?" Tumblr along with an invitation to anybody to send in their own CHRONICLE fan art for the chance to have it featured.
___
AGENCY:

Glass Eye


CLIENT:

20th Century Fox