300: RISE OF AN EMPIRE
"WAR FACE" Motion Poster Creator
"READY YOUR WAR FACE, UPLOAD YOUR PHOTO AND JOIN THE BATTLE!"
To promote the theatrical release of 300: RISE OF AN EMPIRE, Warner Bros. launched 
"WAR FACE" Motion Poster Creator
, available on both desktop and mobile. Fans were invited to see themselves as the epic heroes and heroines of the movie by placing their own faces into the official campaign artwork, resulting in their own custom animated character posters.
The "WAR FACE" application integrates FaceGen, which uses a passport-style photo (taken via your webcam/mobile camera or uploaded from your computer/mobile device) to create a 3D model of your face, then composites it into your choice of character art to see yourself transformed into Themistokles, Artemisia, Queen Gorgo, or Xerxes.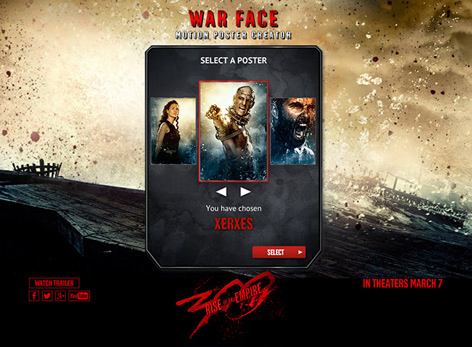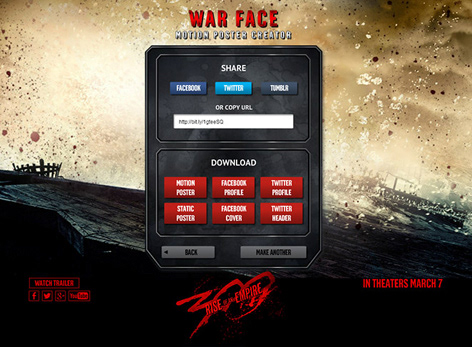 You can also go an alternate route by simply pulling your best silly war face (taken via webcam or uploaded) then adding your choice of war cry and color wash.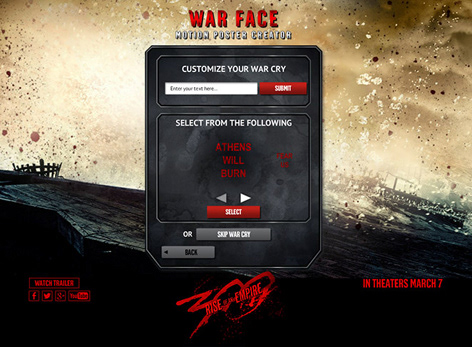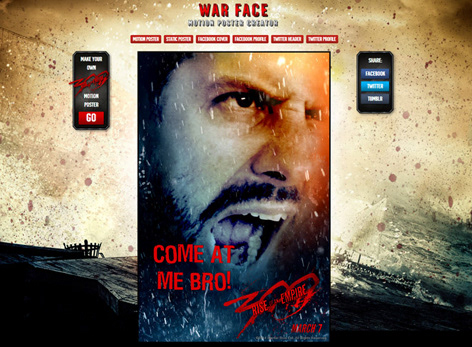 You can share and/or download your personalized 300: RISE OF AN EMPIRE motion poster in a variety of Facebook, Twitter and Tumblr optimized formats, including animated GIF.

AGENCY:

Glass Eye


CLIENT:

Warner Bros.